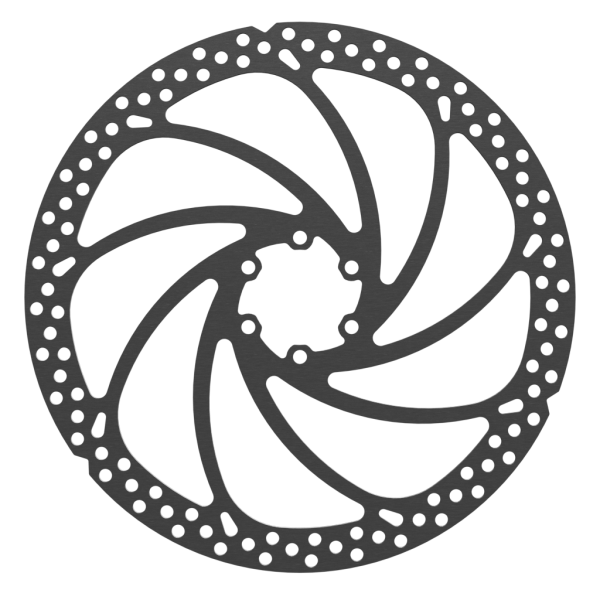 Ø190mm - Ø220mm brake discs | Thickness 1.95 - 2.40mm | for e-bikes and pedelecs
Optimal brake disc for E-Bikes and Pedelecs • Magura Gustav M / MT4 / MT5 / MT7 /...
more
Product information "Ø190mm - Ø220mm brake discs | Thickness 1.95 - 2.40mm | for e-bikes and pedelecs"
Optimal brake disc for E-Bikes and Pedelecs • Magura Gustav M / MT4 / MT5 / MT7 / MT8 compatible • heat treated • very torsion resistant • available in different thicknesses for even more rigidity
➔ Available sizes: Ø190, Ø203 und Ø220 mm
Update 2022
The two thicknesses of 2.10 mm and 2.20 mm are combined in all variants to form a thickness of 2.15 mm. The design in the area of the braking surface and in the inner area of the attachment has also been optimized.
From now on, all brake discs in the UD design are glass bead blasted. This finishing treatment reduces the breaking-in time of the brake discs, rounds off all sharp edges caused by production and gives the brake disc an even better look.
Update 2019
Further optimization of the braking surface and the inner area for receiving the brake disc on the hub. From now on this disc is also available in the size 2.30 mm (for even more rigidity).

Update 2018
From now on we have revised the design of the brake disc in the area of the braking surface. We have optimized the arrangement of the holes and added additional recesses, so that the complete brake pad is 100% engaged. The pad cleaning is thus carried out over the entire friction ring width.
Description
optimal cooling by perforated braking area, developed for downhill use
function optimized, symmetrical arrangement of design elements
Compatible with many common brake systems, where a corresponding friction ring height is present - especially suitable for Magura Gustav M, MT5 and MT7
increased service life by reducing wear on hardened versions - torsion resistance than disc rotors from other manufacturers
available in thicknesses of 1.95 / 2.15 / 2.30 and 2.40mm (compatible with Magura Gustav and Hope)
Weight
Ø190 mm - 195 g
Ø203 mm - 207 g (1,95 mm)
Ø203 mm - 218 g (2,15 mm)
Ø203 mm - 234 g (2,30 mm)
Ø203 mm - 244 g (2,40 mm)
Ø220 mm - 260 g (2,15 mm)
Ø203 mm - 280 g (2,30 mm)
Information for the heat treatment:
For additional stability and strength, all our disc brakes are heat treated. During this process, basic strength in addition to the resilient properties of the material can be improved. As a result, our discs have a very high level of strength, and visibly lower wear, which gives the discs a longer life! In addition, the risk of bending the disc is reduced, so your disc should stay straighter, longer!
These effects are only visible when the disc is installed correctly, and the brake is used properly.
| | |
| --- | --- |
| Rotor Size: | 190mm, 203mm, 220mm |
| Standard / Pitch Circle Diameter PCD: | 6-Hole (IS2000) |
| Disc Thickness: | 2.15mm, 2.40mm, 1.95mm, 2.30mm |
| Material: | High alloy stainless steel ( AISI 420 C) |
| Surface treatment: | Heat treated and precision ground |
| Tightening Torque: | 4-5 Nm |
| Braking Surface: | 16,5mm |
| Compatible with: | Magura Gustav M, Shimano, E-Bikes |
| Quantity: | 1x Brake Disc incl. 6 steel bolts T25 |
Read, write and discuss reviews...
more
Customer evaluation for "Ø190mm - Ø220mm brake discs | Thickness 1.95 - 2.40mm | for e-bikes and pedelecs"
From:
Jörg Präfke
On:
10 Oct 2021
Meiner Meinung nach meine bisher beste Bremsscheibe
Ich habe jetzt an meinem NICOLAI G16 EBOXX die Brakestuff 203 mm / 2,2 mm montiert, vorher bin ich die Trickstuff Dächle HD in 203 mm gefahren. Der Reibring der Brakestuff Bremsscheibe ist breiter als der Reibring der Dächle HD und daher liegt jetzt im Gegensatz zu vorher der komplette Bremsbelag auf dem Reibring auf. Ich fahre eine Shigura (Shimano XTR 9020 Bremsgriffe und Magura MT 5 Bremssattel) und kann jetzt ebenfalls im Gegensatz zu früher selbst mit dem langen EBOXX Stoppies mit einem Finger ohne Probleme machen. Obwohl die Brakestuff Scheibe 2,2 mm dick ist, ließen sich die MT 5 Bremssättel ohne Probleme nach der "Lichtspalt-Methode" einstellen, und auch auf langen, steilen Abfahrten gibt es kein Rubbeln oder Quietschen. Als Belag benutze ich die ganz normalen Trickstuff Standard Beläge. (Übrigens liegt die Verschleißgrenze bei den Brakestuff Scheiben bei 1,65 mm, da stehen also 0,55 mm zur "Vernichtung" durchs Bremsen bereit - dadurch relativiert sich der Preis von € 59,- pro Scheibe ganz schnell)
From:
Admin
On:
14 Oct 2021
Danke dir für das Feedback und allzeit gute Fahrt!
From:
Daniel Krämer
On:
20 May 2021
203/2,1 mm an Shimano-XTR BR-M9120 am Vorderrad - top!
Fahre die Bremsscheibe in 203/2,1 mm mit einer Shimano-XTR BR-M9120 am Vorderrad. Bremsleistung absolut top, super Geradelauf, kein Schleifen nichts. Überhitzung auch nach mehreren 100 Höhenmetern am Stück nicht feststellbar - konstante Bremsleistung. Montiert an einem Enduro-Bike welches auch in den Alpen artgerecht bewegt wird.
From:
Wolfram Popp
On:
26 Mar 2021
Diese Bremsscheibe fahre ich in 203/2,3 mm mit einer Shimano-Zee am Vorderrad eines 26Zoll-Reiserades. Die Bremse ist in Standfestigkeit und Bremsleistung einfach gigantisch - man könnte auch den Begriff "Wurfanker" verwenden. Da ich mit 195cm/100KG nich
Write an evaluation
Evaluations will be activated after verification.
Accessories
Customers also viewed